Archived Classes


Color Theory with the Masters
On line for Intermediate Watercolorist. Those who are comfortable with the medium and have had some basic color theory (know the 12 step color wheel)
Intermediate Watercolor-
Color Theory with the Masters
4 sessions
TUESDAYS 10:15am-12:15 afternoon via Zoom
February 23-March 16th
with sessions recorded for student at-leisure access*
*This feature is particularly useful in case of a missed class, conflicting work schedule, or to watch the class again if further practice is desired
This premiere offering is for those who are familiar with the watercolor medium and the 12 step color wheel. Additional purchases of colors from the materials list will be needed.
Zoom Meeting Instruction will include teacher demonstrations (with student paint along) slide shows, group discussions and brief one-on-one consults
Supporting Instructional modalities are:email and image sharing with mark-ups for individual critique, files of instructional print outs, private Facebook class page for community building and voluntary sharing of student work as well as short videos
Tentative Course Syllabus
Will include such topics as how color temperature creates drama and space in a work, painting successfully with a limited palette, using color intensity and harmony to create dynamic paintings
Introduction To Watercolor
Online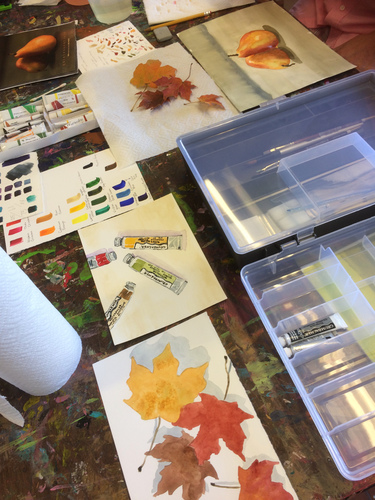 A love of experimentation and curiosity are the most important tools to bring to this class; basic drawing skills are helpful but not required.
Beginning with an exploration of materials, then moving to application methods (wet-on-wet, glazes, blocks, resists and lifts) with additional instruction including: work area set-up, composition set-up, lost and found edges, transferring imagery, and methods for controlling the paint. With an emphasis on value as a way to produce convincing compositions, class discussions can also touch on color theory, light, texture, and transparency as student interest dictates.
Kathy gives lots of one-on-one guidance, detailed demonstrations, and shows many examples to foster confidence. Students will come away with a deeper understanding of this medium and its expressive possibilities. Paintings will include: sampler studies, still life of fruit as well as a student chosen object, and a landscape based on a student supplied reference photo.
Ideal for first-time painters as well as those with prior experience.
Intermediate to Advanced Watercolor
Visual Arts Center Richmond, Virginia
Thursdays 10-12:30 Winter 2020
For the experienced watercolorist or students who are comfortable with the exercises in Introduction to Watercolor.

Instructor will offer design challenges, lectures/demos or slides shows as the group interest dictates. The challenges may include plein air, oversized still life, speed painting, rendering from a clothed model, trompe l'oeil exercises and more.
A willingness to work on these paintings outside of class is beneficial for personal growth and skills development.
​
Classical Drawing Intensive
Visual Arts Center, Richmond,Virginia
Learn a classical approach to rendering that the instructor learned at the New York Academy of Art and the Student Art League and has taught on a university level. We'll cover techniques and concepts including sighting, blocking enveloping, contour and value scale. Slides and discussions of masterworks also included.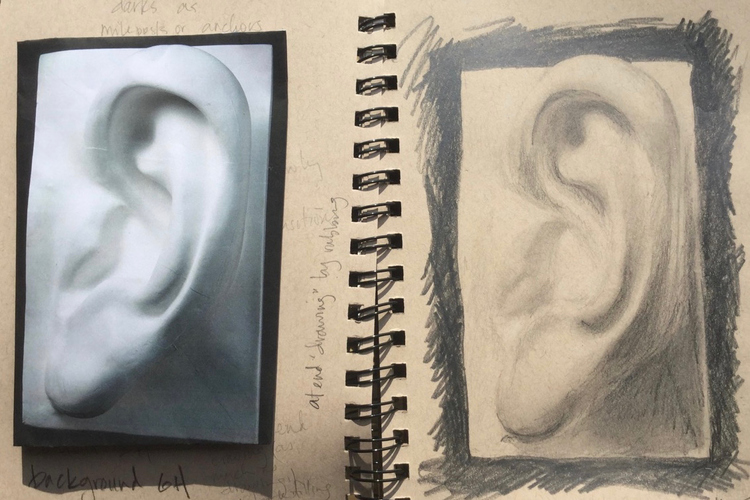 Sketch Journals on the Go
Visual Arts Center Richmond, Virginia
Winter 2020
https://www.visarts.org/classes/?fwp_classes_type=adult&fwp_classes_instructors=kathy-calhoun&fwp_classes_duration=adult-multi-week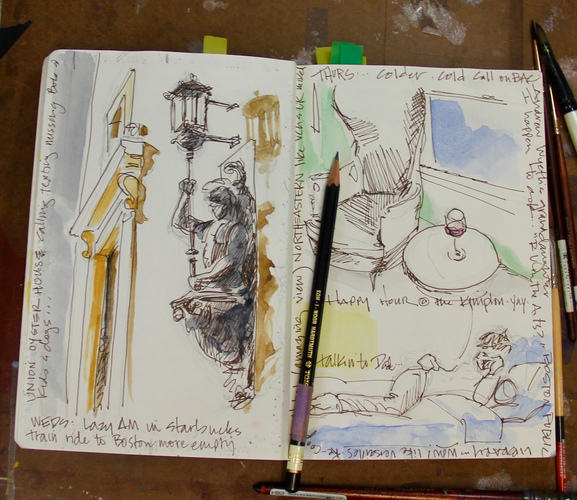 Want to be able to capture that sense of a wonderful moment and/or place whether traveling or just hanging out?
In this two part class, participants will first sew and construct their own high quality hardback sketchbook to their own specs; then learn several easy and successful strategies for drawing, painting, collage and writing to turn their adventures into hand held works of art.
Mini-field trips within and outside the center, along with personal mementos, and photos will offer source material and inspiration.