Kathy believes with on-line instruction, a multi-modality approach ensures highest level of student success.
Previous On-Line Format: Base of the class is built on synchronous weekly Zoom meetings of 90 minutes (with asynchronous video backup) for demonstrations, slide shows, group discussions and brief one-on-one consults. Supporting modalities are email and image sharing for individual critiques with mark ups, private Facebook class page for community building and voluntary sharing of student work, along with short videos and file attachments for further detailed instruction.
Possible Hybrid:
Depending on CDC, WHO and/or local government guidelines. Classes may meet the first time outside in a socially distanced masked environment, then move to the on-line version above.
ARCHIVED CLASSES
Introduction to Watercolor
Visual Arts Center Richmond, Virginia
Tuesdays 10-12:30 Winter 2020
https://www.visarts.org/classes/?fwp_classes_type=adult&fwp_classes_instructors=kathy-calhoun&fwp_classes_duration=adult-multi-week
This class is for beginners to intermediate level.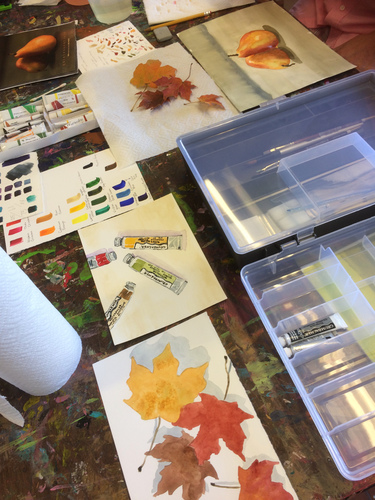 A love of experimentation and curiosity are the most important tools to bring to this class; basic drawing skills are helpful but not required.
Beginning with an exploration of materials, then moving to application methods (wet-on-wet, glazes, blocks, resists and lifts) with additional instruction including: work area set-up, composition set-up, lost and found edges, transferring imagery, and methods for controlling the paint. With an emphasis on value as a way to produce convincing compositions, class discussions can also touch on color theory, light, texture, and transparency as student interest dictates.
Kathy gives lots of one-on-one guidance, detailed demonstrations, and shows many examples to foster confidence. Students will come away with a deeper understanding of this medium and its expressive possibilities. Paintings will include: sampler studies, still life of fruit as well as a student chosen object, and a landscape based on a student supplied reference photo.
Ideal for first-time painters as well as those with prior experience. Students receive a folder of helpful handouts and blank paper for note taking.
Intermediate to Advanced Watercolor
Visual Arts Center Richmond, Virginia
Thursdays 10-12:30 Winter 2020
For the experienced watercolorist or students who are comfortable with the exercises in Introduction to Watercolor.

Instructor will offer design challenges, lectures/demos or slides shows as the group interest dictates. The challenges may include plein air, oversized still life, speed painting, rendering from a clothed model, trompe l'oeil exercises and more.
A willingness to work on these paintings outside of class is beneficial for personal growth and skills development.
​
Classical Drawing Intensive
Visual Arts Center, Richmond,Virginia
Learn a classical approach to rendering that the instructor learned at the New York Academy of Art and the Student Art League and has taught on a university level. We'll cover techniques and concepts including sighting, blocking enveloping, contour and value scale. Slides and discussions of masterworks also included.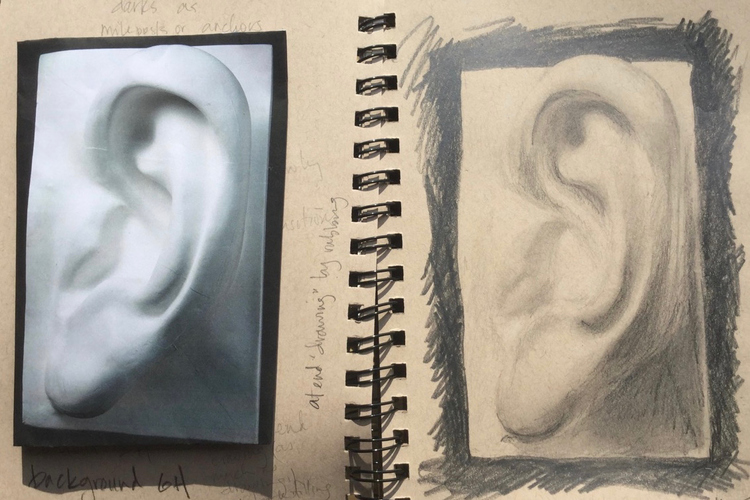 Sketch Journals on the Go
Visual Arts Center Richmond, Virginia
Winter 2020
https://www.visarts.org/classes/?fwp_classes_type=adult&fwp_classes_instructors=kathy-calhoun&fwp_classes_duration=adult-multi-week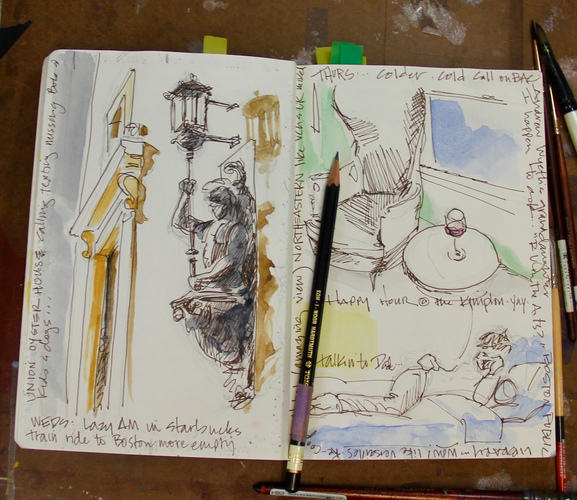 Want to be able to capture that sense of a wonderful moment and/or place whether traveling or just hanging out?
In this two part class, participants will first sew and construct their own high quality hardback sketchbook to their own specs; then learn several easy and successful strategies for drawing, painting, collage and writing to turn their adventures into hand held works of art.
Mini-field trips within and outside the center, along with personal mementos, and photos will offer source material and inspiration.